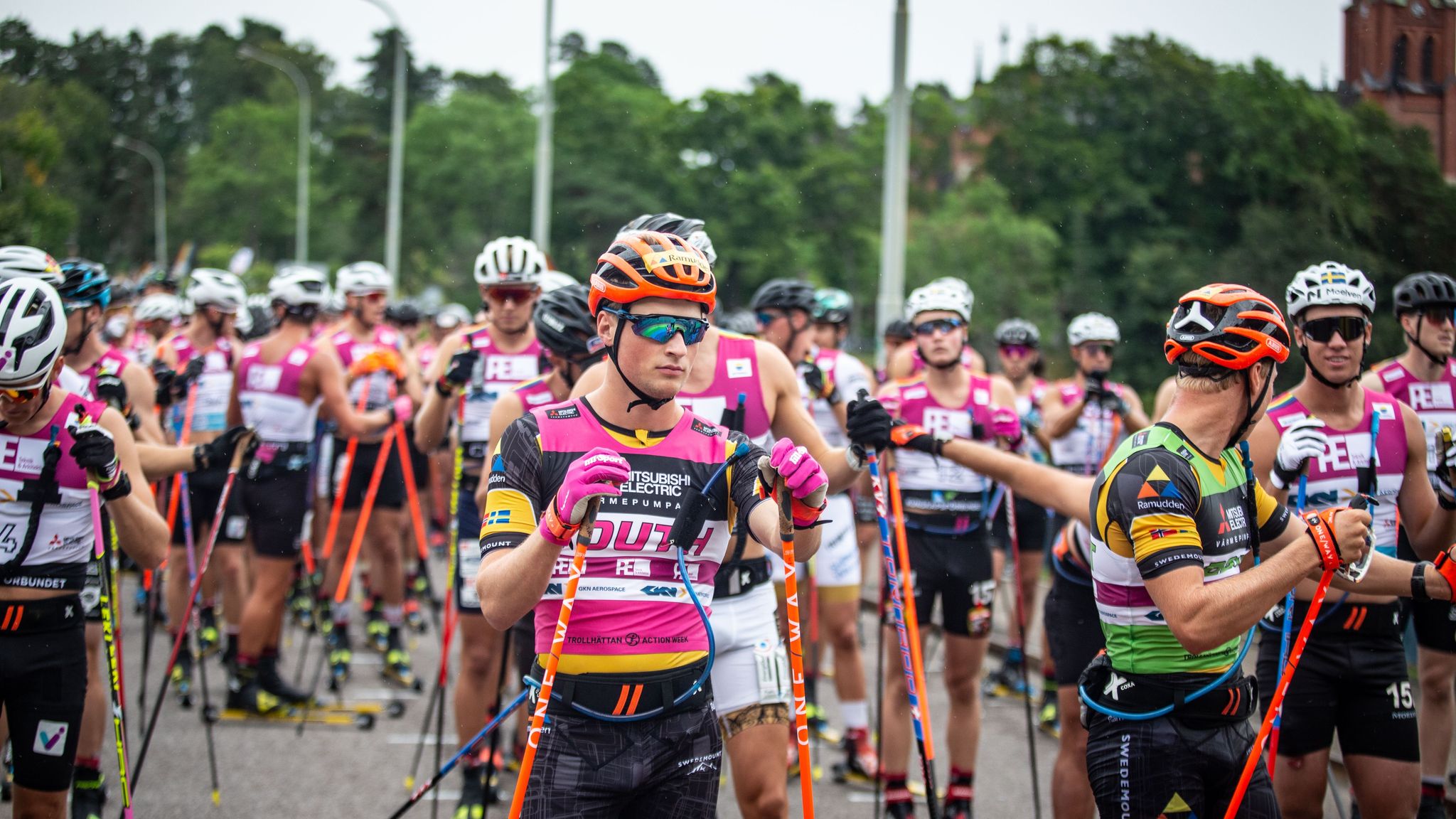 The current male Champion of Mitsubish Electric World Classic Tour Amund Riege (Team Ramudden) reveals his ambitions and his feelings as Season VII is approaching!
Amund Riege from Team Ramudden was the overall champion of Mitsubishi Electric World Classic Tour Season VI and will wear the yellow jersey on the first stage of this new season: Lysebotn Opp Double Polling (Blink Festival).
The competition for the bib was tough and the top three have been engaged in a merciless battle. Despite not winning any stages, his consistency throughout the season has given him an edge over his closest competitors Max Novak (Team Aker Dahlie) and Johan Hoel (Team Ragde Charge).
The suspense remained until the last race, and despite Novak's victory, Riege's solid 5th place allowed him to bring the leader's jersey home.
Approaching the new season of the Mitsubishi Electric World Classic Tour, he exclusively reveals his ambitions and his feelings for this summer!
---
As the Champion of Season VI, how do you approach the upcoming season?
My plan is to do every stages of Mitsubishi Electric World Classic Tour. It's a cool concept and it went great last year, even more than expected! I don't put too much stress on it, but I can say that I have more ambition for this summer season.
In 2022, the only thing you missed is winning a stage. Is it in your goal this year?
I was stable in my results last year, close from the win in Alliansloppet and Blink Classics. To be on top of the podium is for sure a goal for this summer season. I don't think it would be on Lysebotn Opp Double Poling because it's not the one fitting me the most but aim for all the other races!
The battle with Max Novak was tight until the last stage last season, can you talk about the feeling you had before and after this decisive race?
I knew he was in good shape after winning Toppidrettsveka the week before. I knew I could make it, but the gap was not that big behind me, so it was a bit unsure. I knew I had to deliver a good race this day. I was quite nervous before the 15km. It was a good race (5th place) and I was very happy that it went tis way!
You did your best winter so far; do you think being in shape in summer helps you being performant in winter?
Yes, many skiers are traditionally afraid to be in shape to early during summer but I'm pretty good at roller skiing and it gives me confidence for the autumn when I can go fast during the summer. I try to manage to have a good shape in August, and even a better one in winter!
How do you manage to be performant during summer races when we know that it's always a period with a huge training volume?
It's just small adjustment. I don't overact in the front of the race and I try to lower a bit down the training, so I know that I stay on the right side. Races are good sessions and it feel quite natural for me to integrate it in my training.
What can we wish you for this summer?
To get a 1st win on Mitsubishi Electric World Classic Tour for sure!
If you could be any other athlete ( dead or alive, male or female, in any sport, even in your Team!) for 24 hours, who would it be?
Erling Haaland! [the best Norvegian football player and one of the best in the world]. It's said that he has an extreme lifestyle. It must be fun to try!
And who would it never be?
A swimmer! Every training is in a pool! You can't experience the nature as you do in skiing.
Pictures: Alliansloppet