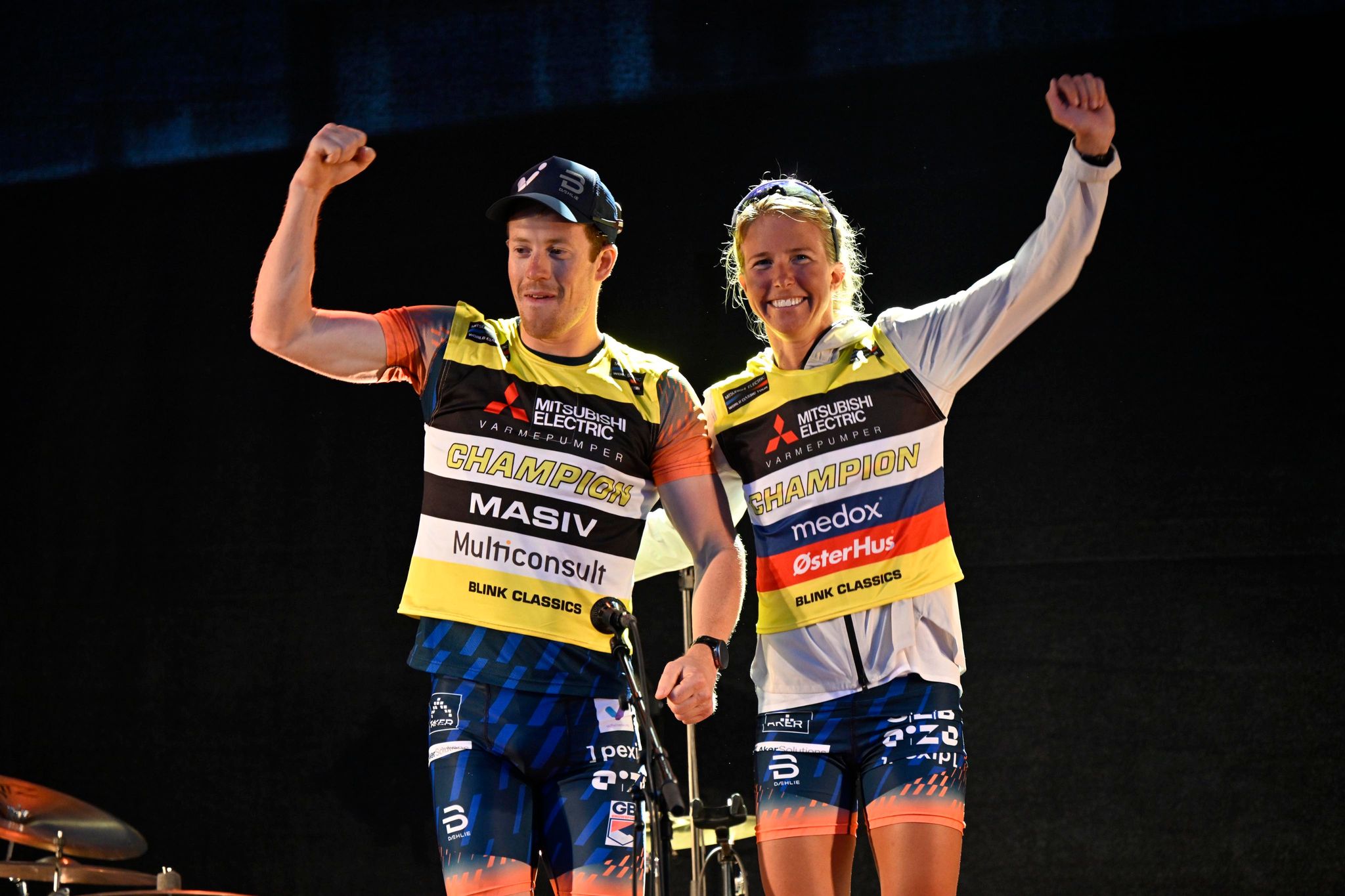 Thursday was dedicated to long distance in BLINK 23 with the second stage of Mitsubishi Electric World CLassic Tour: BLINK Classics at Ålgård.
A demanding 13km loop to be completed four times was on the programme, in ideal weather.
In this game, it was Andrew Musgrave and Astrid Øyre Slind from Team Aker Dahlie  who found the solutions for victory.
The peloton remained compact for most of the race, and it's Stian Hoelgaard from Team Aker Dahlie who placed the first attack but was caught a few kilometers later. Then Musgrave took his chance and broke away with Sivert Wiig, then alone until the finish line.
The podium is completed by Thomas Joly – Team Naeringsbanken Stora Enso and Petter Norhug – Team Janteloppet after a bunch sprint with about thirty athletes.
Musgrave strengthens his Champion with this impressive vicrtory.
On the women's side, Slind was the strongest, increasing the pace throughout the race until there were only 8 athletes left able to keep up. About half way to the finish, she attacked and went for an incredible broke away until the finish line!
A group of 7 riders were then fighting for the podium. Lotta Udnes Weng from the norwegian national team and Anikken Gjerde Alnaes from Team Ragde Charge competes the Top 3.
Slind has further increased her lead in the CHampion competition.
First sprint points of the season
In the men's race, it was Hoelgaard who won the first points of the season during his breakaway. Musgrave did the same in the second sprint. Therefore it was a draw, but Musgrave is better ranked in the overall classification, so he his the one taking the green jersey home.
Astrid Øyre Slind picked up all the sprint points along her breakaway as if it was mushrooms and end up in green!
A prmière for the Youth bib
Thomas Joly from Team Naeringsbanken Stora Enso took the pink bib after an amazing 2nd place! He becomes the first French to wear a distinctive bib in Mitsubishi Electric World Classic Tour!
Hanna Lodin from Team Engcon has shown great consistency over the last two days, enabling him to take the pink jersey!
Hoelgaard rideing alone
After placing the first attack and riding alone for almost 10 km through Ålgård (his home town), Stian Hoelgaard from Team Aker Dahlie was elected as the Athlete of the Day.
Find out all the results HERE.
Pictures: BLINK / Hans Lie