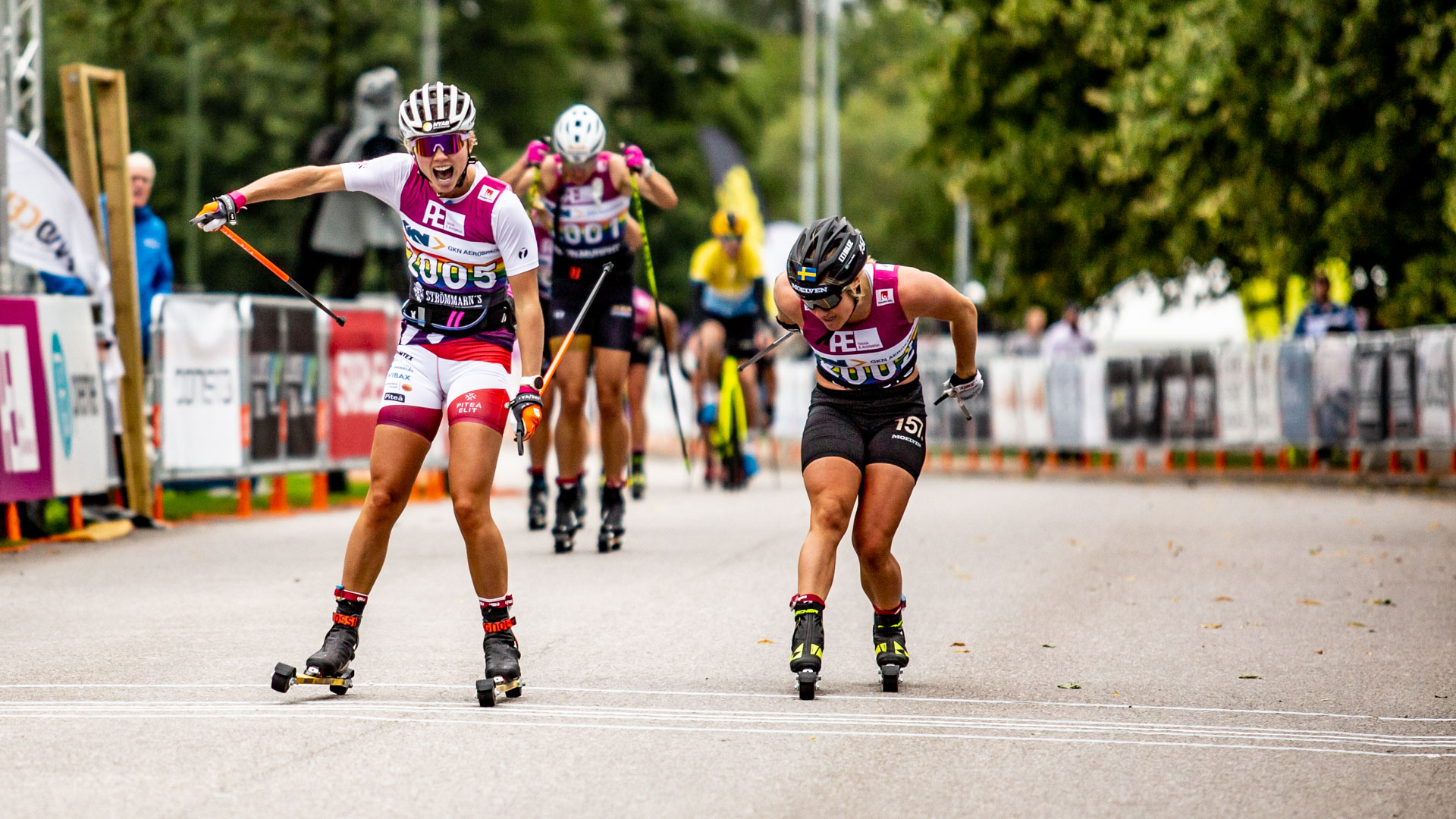 We are now one week before the final stages of the Mitsubishi Electric World Classic Tour hosted by Trollhättan Action Week!
Let's see the main forces involved and have a look on the current standings.
Hoel on the heels of Eklöf
He wasn't supposed to come to Trollhättan but being just 15 points behind Johannes Eklöf (Team Ramudden) motivated Johan Hoel (Team Ragde Charge) to give it a shot!
The competition for the champion's bib will be tough between these two.
On the women's side, nothing seems to be able to separate Astrid Øyre Slind (Team Ake Dæhlie) from bringing home the yellow jersey, but the competition for the podium is very open:
5 competitors are in a pocket handkerchief, but only two of them will have a place on the podium!
Busqkvist and Slind for the green bib
After his strong performance in Blink Classics, Alfred Busqkvist (Team Ramudden) took a comfortable lead in the sprint competition and could well end the summer in green! Behind him it's tight since 5 athletes have the same number of points… The sprint positions will be disputed on Alliansloppet!
Linn Sömskar (Team Engcon) still have little a chance to get the Sprint bib from the shoulders of Astrid Øyre Slind, but she will have to catch all the sprints in Alliansloppet, and it will also depend of Slind's position.
Riege resisting to Novak
Regarding the Youth competition, Amund Riege (Team Ramudden) is little 5 points ahead of Maw Novak (Team Aker Dæhlie), last year winner of Aliansloppet. Will Amund Riege resist to a Max Novak who will certainly give it all to defend his title?
The Youth competition in the women category is still open and the two final stages will be decisive!
Team Aker Dæhlie lead the dance
The Team competition is leaded by Team Aker Dæhlie, followed by Team Ramudden and Team Kaffebrygerriet which was in great shape in Blink Classics. Once again, the two final stages will be decisive as Team Næringsbanken and Lager 157 Ski Team (4th and 5th) certainly wants a place on the podium!
A lot of great athletes on the start line
The final stages will the final stages will also be marked by the presence of the national Teams from Sweden, Switzerland, Germany and France (U23). World Cup athletes like Calle Halvarsson (SWE),  Lucas Boegl (GER), Jonna Sundling (SWE) or Katarina Hennig (GER) will be great candidates to victory.
Without forgetting the multiple Olympic and World champion Pette Northug Jr !
Saturday 27th: Stage 4 Alliansloppet 48 kms
Sunday 28th: Final Stage 15 kms Individual Start
More information on our page EVENT.
All the information about Trollhättan Action Week HERE.
Picture: Trollhättan Action Week