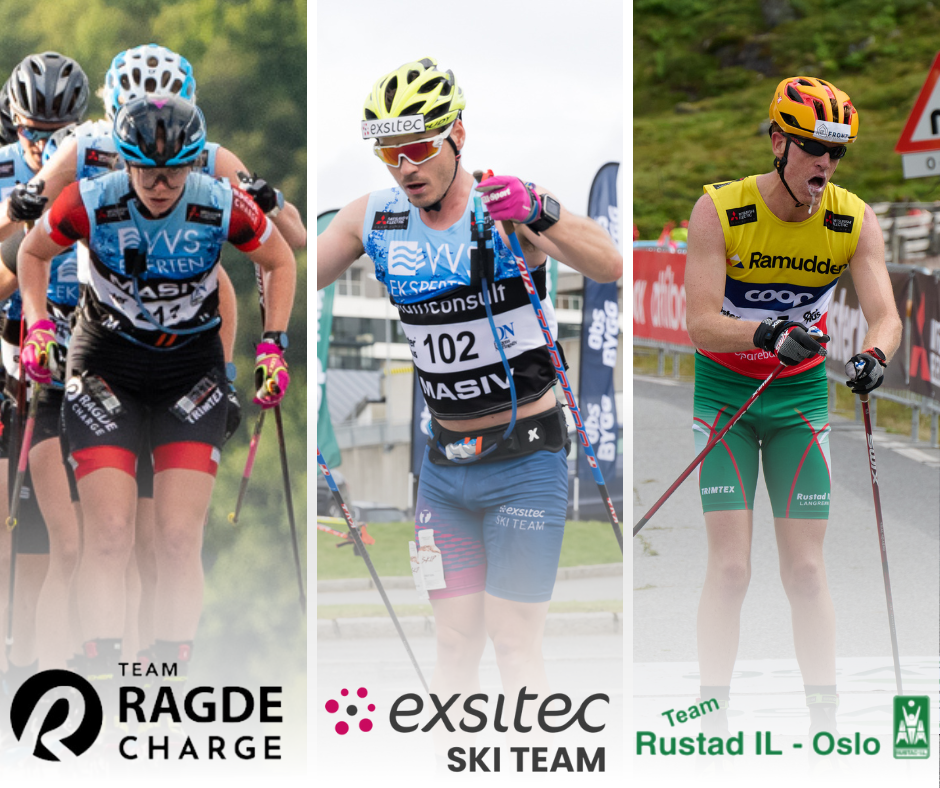 As the first stage of Mitsubishi Electric World Classic Tour is getting closer, it's time to meet three new Teams which are in!
The legendary Team Ragde Charge
The Norwegian team, which takes its roots back in 2007, bid farewell to Anders Aukland, a cross-country skiing legend and winner of the Vasaloppet, who has now taken on the role of coach. Team Ragde Charge brings together some of the most decorated and experienced athletes in long-distance cross-country skiing, starting with Andres Nygaard, a two-time Vasaloppet champion in 2018 and 2022.
The team can also rely on the excellent climber Johan Hoel, winner of the Lysebotn Opp Double Poling in 2022 and 3rd in the overall standings of the Mitsubishi Electric World Classic Tour Season VI. Let's not forget Kasper Stadaas, winner of Jizerská Padesátka this winter, Karstein Johaug, who achieved multiple Top 5 finishes on the Ski Classics circuit, and Torgeir Sulen Hovland, the new team's recruit.
On the women's side, the team boasts an impressive roster as well, with Jenny Larsson, who reached the podium in the Marcialonga this winter, and Anikken Gjerde Alnes, who took the third place at Lysebotn Opp Double Poling last summer.
Once again, this team is among the favorites and will be closely watched!
Former Vasaloppet top 5 joins team as new recruit
Niclas Hägglund, athlete and Team Director of Exsitec Ski Team, has recruited Klas Nilsson, a great name of long-distance skiing who finished 5th in Vasaloppet in 2020! Additionally, Nilsson emerged victorious in the 2021 Red Bull Nordenskiöldsloppet, an extreme 220 km race. This is a formidable asset that Exsitec Ski Team can rely on this summer.
Einar Kalland-Olsen and Jacob Karlsson will complete the men's team, while Julia Montgomery will represent Exsitec Ski Team in the women's category, continuing to make her mark in long-distance skiing after an honorable performance in Vasaloppet last winter.
Strength in numbers
Team Front Rustad IL from Norway will be well-represented on the Mitsubishi Electric World Classic Tour this summer!
The team brings a strong contingent of 8 men and 2 women, all sporting the distinctive green colors of the Rustad IL ski club from Oslo, which is the team's home base.
With such a sizable group, it's possible that they will implement a solid team strategy to contend with the top competitors.
Team Front Rustad IL riders for Season VI:
Hans Petter Rolke
Lars Soerensen
Tor Olav Nesheim Hægeland
Magnus Waaler
Bendik Haaland Pedersen
Henrik Boeyum Webjoernsen
Toerres Lutnaes
Marius Meldalen
Hanne Skulbru
Christine Louise Stavnum Arnkværn
To find out more, check out our page TEAMS.
Pictures: BLINK / Team Front Rustad IL