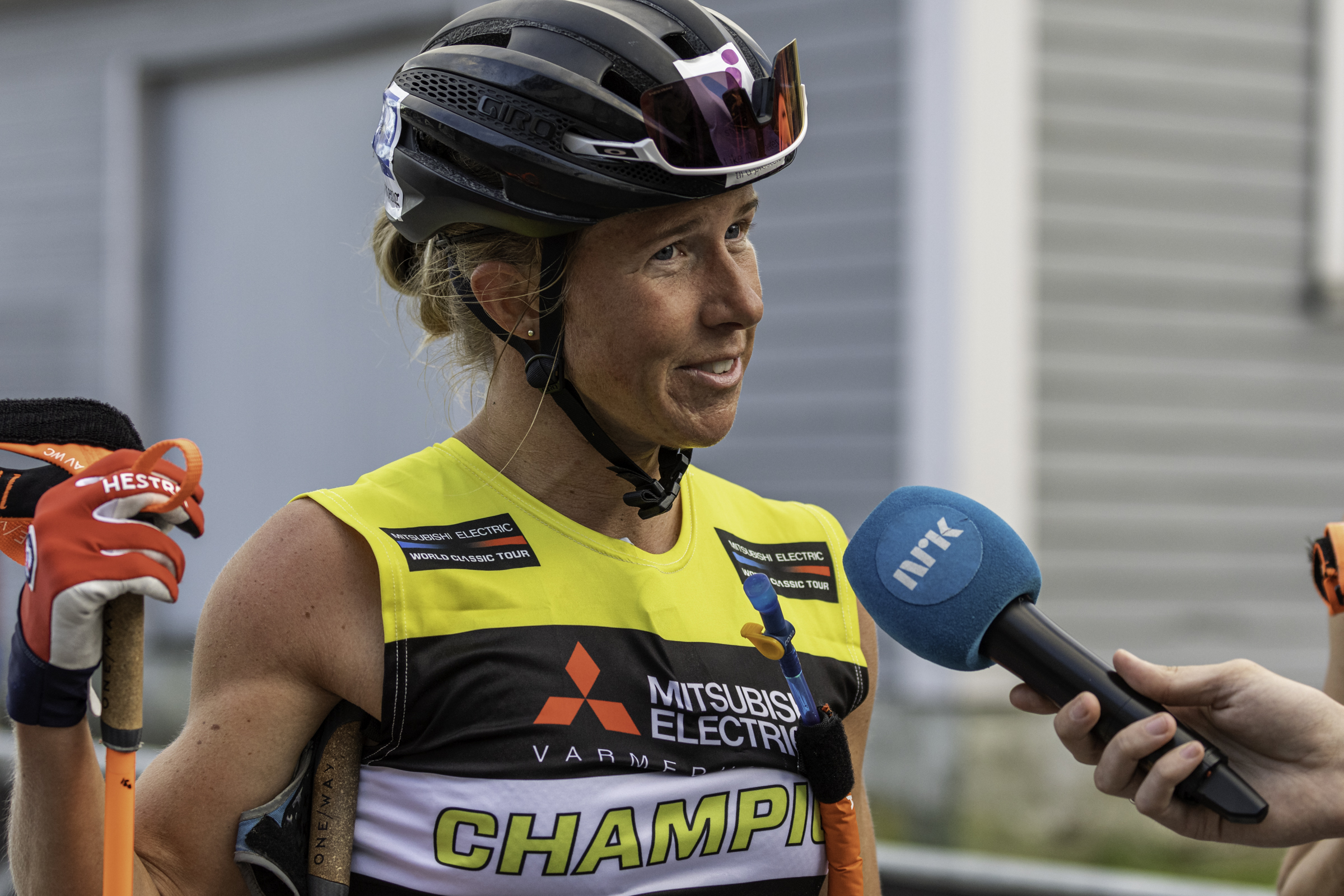 After crushing the competition last summer and bringing home the Champion bib, Astrid Øyre Slind from Team Aker Dahlie tells us about her goals for this season and more generally about her remarkable career.
Astrid Øyre Slind is undeniably one of the most accomplished athletes in long-distance skiing. Her track record is simply dizzying, claiming victory in Vasaloppet 2022, in Birken 2023, multiple victories in Ski Classics, victory in Lysebotn Opp Double Poling 2022 Toppidrettsveka 2022 and podium in all the other stages of Mitsubishi Electric World Classic Tour Season VI… 
Moreover, this winter, she further demonstrated her skills in traditional skiing by earning a remarkable bronze medal in the skiathlon and a gold medal in the relay event at the FIS World Championship 2023 held in Planica. Astrid Øyre Slind has truly solidified her position as a top-class athlete across various cross-country skiing disciplines.
---
How do you feel approaching this new summer season with the yellow jersey on your shoulders?
I feel good! I already raced once and I'm pretty happy with my shape and everything. Starting with a yellow jersey is a really fun experience so I'm looking forward to the roller ski season!
We usually see you at the start of many races during the summer season. Why is it important for you to race all year long?
I think it's really good, at least for the training. You can't get session like that on your own so by competing you get harder and longer sessions and it's more fun! I enjoy the races, so it gives me something to look for during August.
I can do a lot of training in June and July and have kind of a competition season in August, then go back to training in September and October. I think it's really good to have different periods with training and competition.
Can you tell us a bit about your first weekend in March with this unprecedented World Championship/Vasaloppet combination?
That was maybe a little bit too hard combination but when I was presented with the chance of trying, with the plane and everything, I figured that it would be a nice challenge to try. I realized after 20 km of Vasaloppet that it was a little bit too hard but now, I just had to finish this (laugh)!
It's also fun to try to raise the limits and test new stuff. It develops me to have challenges. Sometimes it works, sometimes not and this time, it didn't! But if I didn't try, I would never know…
You're certainly the most versatile athlete in Nordic skiing, capable of winning Vasaloppet, Lysebotn Opp Double Poling, or getting on the podium at the World Championships and World Cups. What's your secret?
No, I think my secret is just have fun doing training and being patient enough to do a lot of training. I have developed a lot better technic, so I think that's part of the success: racing easier because you're more efficient.
Most of it is just training. I like the challenge, so I also like to do the long double polling and I like to do the uphill racing!
What about biathlon and ski jumping? Are you planning to be successful in all the Nordic disciplines?
Biathlon I already tried a little bit! I love doing biathlon. I think it's a fun and interesting sport, but I don't have enough time for shooting to be really good at it so it's just a hobby. And I'm way too big for ski jumping (laughs)!
You've had a rather unusual career, switching between the national team and the long-distance team. What advice would you give to a youngster struggling to break into the national team?
If you try the same training over a period of time, you will realize that suddenly you can give a lot. At least for me it worked that way. It tried "traditional training" until I was 25, then start long-distance training and it developed at lot to have this new impulse on my body.
Most important: be patient and have fun! It's not a waste of time anyways. If you don't win it still a good use of your time.
And finally, if you had to spend 24 hours in the shoes of another athlete in any discipline, male or female, living or dead, who would it be?
That's a tough one because a younger me would have answered a cross-country skier but now I would like to learn from other sports, so maybe a cyclist. Let's say Jonas Vingegaard!
He is in yellow jersey and I would love to see how they do things in big cycling races. From one yellow jersey to another (laughs)!
And who would it NEVER EVER be?
There is no sport I would hate to do but I would say speed walking, because I hate not going for full speed!
Pictures: BLINK and Alliansloppet