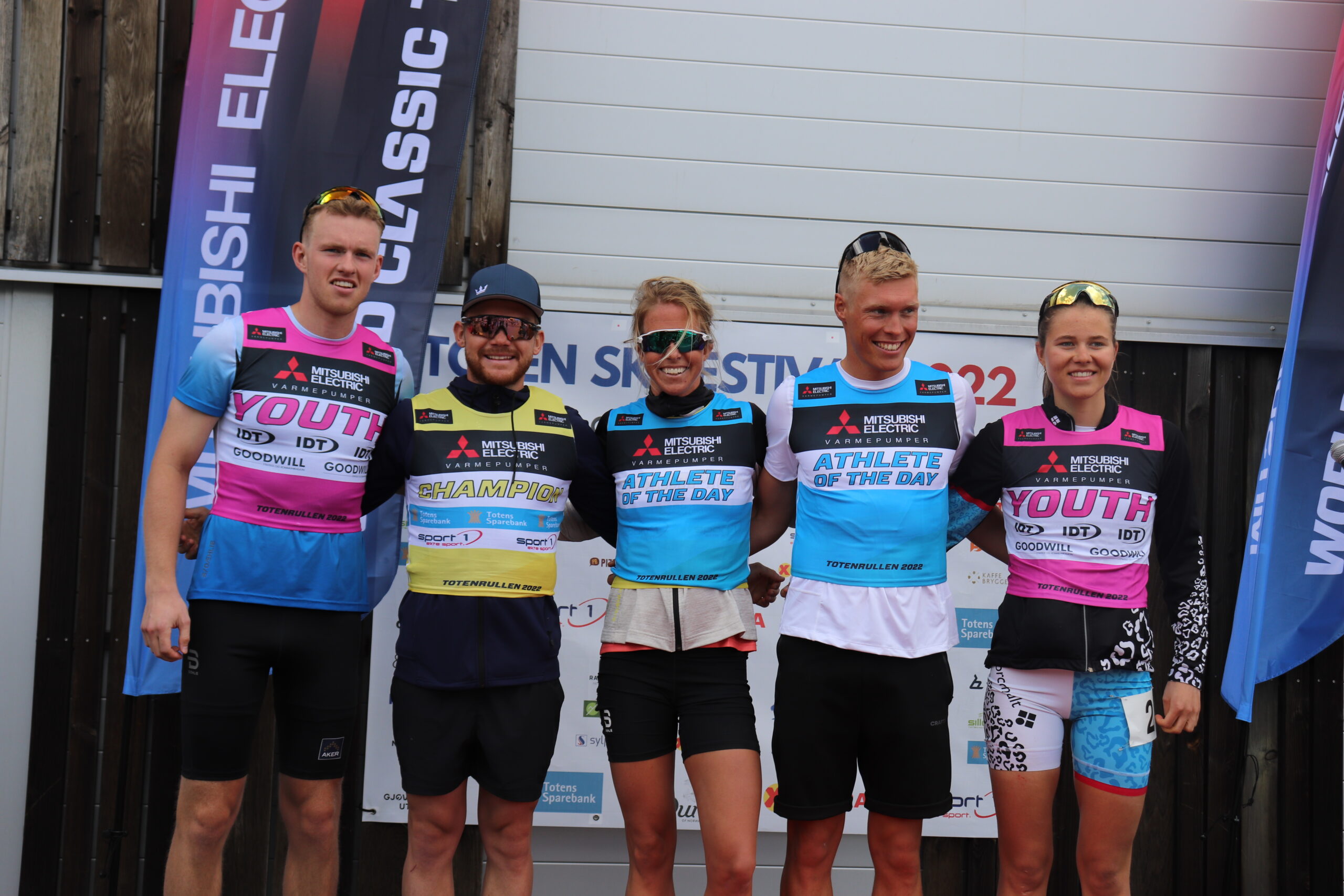 The weather was perfect in Raufoss, Norway for first stage of Mitsubishi Electric World Classic Tour, and the suspense held until the very end.
Håvard Solås TAUGBØL and Astrid Øyre Slind in yellow
The start list was impressive with World Cup top athletes and long-distance specialists, and it's finally Håvard Solås TAUGBØL who wins after a crazy finish launched 1km from the finish line!
Ansgar EVENSEN took the leads in the first kilometers, and won the first Mitstubishi Electric World Classic Tour Sprint point of the season at the 14th km.
Then Amund RIEGE took matters into his own hands, soon joined by Hermaus PAUS and Johannes EKLÖF, his teammates from Team Ramudden.
The pack stretched; they were only about 10 left at this point.
Martin Løwstrøm NYENGET did a big effort to win the second sprint at the 34th km, and it worth it because he is now the new Sprint bib holder.
About 10 kilometers to go, and Runar Skaug MATHISEN place a big attack to leave his opponents. Only NYENGET can respond and he stroke back, what gives him the Athlete of the Day reward, but the two men didn't work together, and the purchasers came back.
The tension is at his maximum, and TAUGBØL tries his luck at 1 km from the finish, and it worked! Nobody can follow, Emil Persson takes the 2nd place, and Johannes EKLÖF is third.
With his 5th place, Petter STAKSTON, Team Aker Dæhlie take the pink bib for the Youth standing.
Astrid Øyre SLIND dominate the women's race
Mari SVINGHEIM did a solid start and was ahead at the first checkpoint, but then SLIND showed her superiority. She won the first Sprint pints of the season one minute ahead from the other girls and it was a solo ride until the finish line.
SLIND is now holding the Champion Bib, the Sprint bib, and she was elected Athlete of the Day.
Elena Rise JONHSEN took the 2nd place, thus offering herself the Youth bib.
Barbro Sætha, Team Næringsbanken, complete the podium.
Team Aker Dæhlie is leading the Team competition
It's Team Aker Dæhlie who takes the lead in the Team competition thanks to the extremely strong performance of Astrid Øyre Slind.
Stackston and Jespersen, respectively 5th and 18th strengthen the group performance.
The second place is held by Team Ramudden, just in front of Lager 157 Ski Team.
Learn more on our page STANDINGS