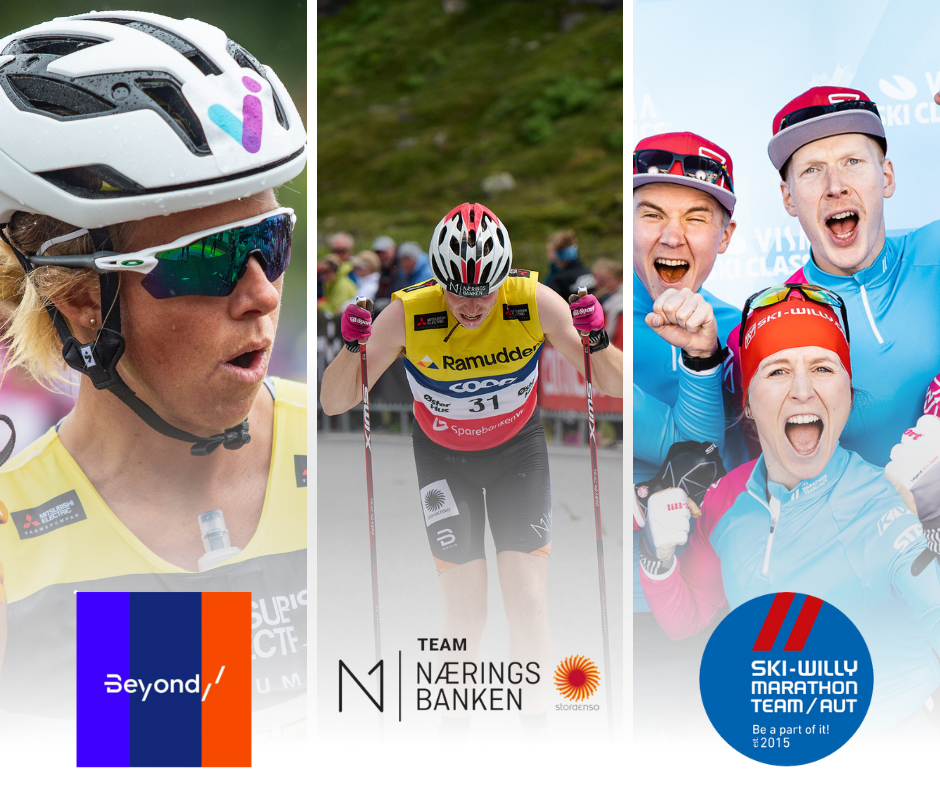 As every week, we meet three new teams signed up for Season VI. And once again this week, it's a strong trio!
With the goal to go Beyond
Team Aker Dahlie was created a year ago in Norway, with the aim of giving equal opportunities to traditional, long-distance and Paralympic cross-country skiers, so that they can realize their dreams.
The least we can say is that it works, because Team Aker Dahlie has become a benchmark in long-distance skiing: winners of the Team ranking at the Mitsubishi Electric World Classic Tour Season VI, and at the Ski Classics last winter!
Their track record is nothing short of breathtaking, starting with Max Novak, winner of the Blink Classics and Toppidrettsveka 2022, and Astrid Øyre Slind, current holder of the champion's bib, who spoke to us a few days ago. You can read her interview by following this LINK.
You only have to read the names of the athletes in this team to realize that they will be playing up front this summer!
Max Novak
Andrew Musgrave
Petter Stakston
Stian Hoelgaard
Chris Jespersen
Thomas Johannesen
Silje Ø. Slind
Astrid Ø. Slind
Guro Jordheim
Team Næringsbanken Stora Enso aiming for the top
The Norwegian Team Næringsbanken Stora Enso aims to wear its orange colors at the front of the standings, with its men's team and the recent recruitment of Thomas Joly. The French man showed strong performances with a third at Alliansloppet last summer and a 4th place this winter at Orsa in Ski Classics. Very comfortable on roller skis, he will be someone to watch this summer.
The team led by Halvar Korbøl Thoner (team manager and rider who finished in the Top 25 at Alliansloppet 2022) also includes Haakon Holdens who get a solid Top 40 position in Vasaloppet 2022. Henrik Joks, author of a very fine Vasaloppet 2023 (32nd) and Ole Eirik Fuglehaug Ekrem are also part of the team.
On the women's front, it's Marie Renée Sørum Gangsø who leads the way. She is often in the Top 15 in Ski Classics during winter and her best performance on the Vasaloppet was 11th place. She will be accompanied by Julie Kvale Støstad, a former top-level football player who has converted to cross-country skiing and is tackling her first season in a long-distance pro team. A very interesting case to keep an eye on!
Be part of it!
This is the mantra of Ski-Willy Marathon Team Austria, a team set up in Austria in 2015 with the aim of spreading the passion for cross-country skiing and motivating young people to take up the sport, reviving traditional sporting events and highlighting the importance of cross-country skiing in Austria as a winter sports nation.
Winners of the Virtual World Classic Tour in 2020 and having covered more than 3 385 km during World Rollerski Week in 2022, Ski-Willy Marathon Team Austria is one of the best in the world when it comes to bringing together lovers of long-distance cross-country skiing!
Ski-Willy Marathon Team Austria riders for this season:
Luisa Grießbaum
Mika Vermeulen
Florian Göbel
Matthias Waldauf
To find out more, check out our page TEAMS.
Pictures: Trollhättan Action Week / BLINK / Ski-Willy Marathon Team Austria