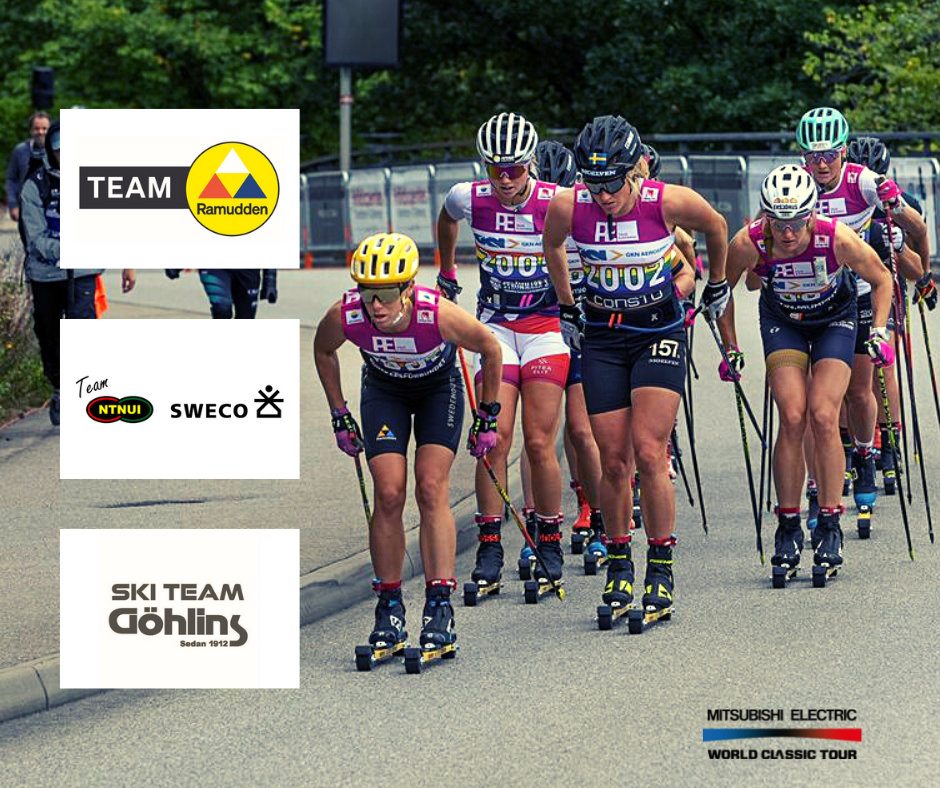 D-5 before the first stage of Mitsubishi Electric World Classic Tour: Totenrullen! To help us wait, here are three new teams.
The yellow monsters
Driven by the Vasaloppet winner Lina Korsgren, the squad is one of a kind. Young talents and a great team spirit, here is Team Ramudden!
After an amazing winter with a lot of wins and ending up 1st in the Ski Classics Team competition, the Team from Sweden will be to watch this summer.
Johannes Eklöf, top 20 at Alliansloppet 2019 and winner of a stage in Ski Classics this winter, is leading the men side. His skills in uphill will be very useful in Lysebotn Opp Double Polling.
Herman Paus will be one of the leaders on the Youth competition and Amund Riege and Alfred Buskqvist, newcomers in the Team, will strengthen the group even more.
On the women side, Ida Palmberg is a strong top 15 athlete in Ski Classics and Alba Björnsdotter, also a newcomer born in 2003, will be great opponents in the Youth competition.
Between university and pro athlete
The next team is based in Trondheim, Norway and is related to the Norwegian University of Sciences and Technologies (NTNUI): Team NTNUI Sweco.
In 2021, Olaf Talmo end up 20th in Toterullen when Ludwig Vartal finished 29th. Hans Petter Rolke finished 35th in Vasaloppet 2022, and the female representative of the Team Hanne Skulbru get 4 times in the Top 35 in Ski Classics and was 37th in Vasaloppet.
This young Team will play the firsts roles in the Youth competition. Definitely, the pink jersey is going to be hotly contested this summer!
The next Team is from Sweden and was founded in Småland: Ski Team Göhlins!
Their training ground is magnificent, and so is their team. Hilda Löf gets 4 times in the Top 35 in Ski Classics, and Hanna Abrahamsson gets 2 times in the Top 20!
On the men side, ELIAS ANDERSSON ended up Top 100 in Vasaloppet and FILIP ROSJÖ finished in the Top 50 in Tartu Marathon. Let's see what they can do this summer on rollerskis!
To discover more about the teams, go to our page TEAMS
Team Ramudden– Instagram – Facebook
Team NTNUI Sweco – Website – Instagram – Facebook